Tailor Made Fish Farms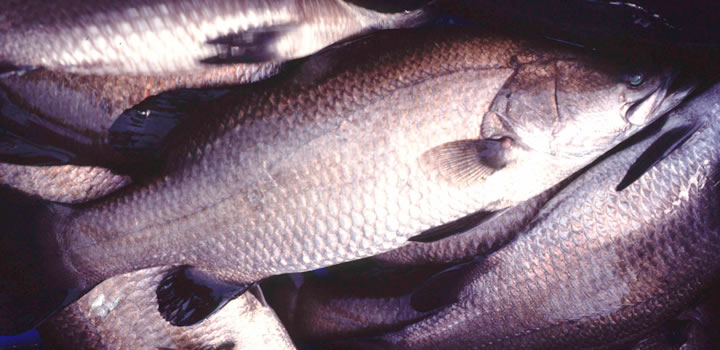 Lates calcarifer (Barramundi)
Tailor Made Fish Farms has been operating a fully functional production system for over 19 years, over this time we have developed an easy to operate, land-based modular fish production system that is both sustainable and environmentally responsible. Production of 'year-round' premium quality fish and vegetables is achieved through compact and controlled production areas using much less water than conventional methods, additional benefit and cash stream are enjoyed by utilizing wastewater from the fish production as a resource to produce a second crop of fresh vegetables.
This efficient combination of fish & vegetable production has two major advantages, firstly water use is minimized, and secondly the environment remains protected by the vegetables ability to fully utilize wastewater from fish production instead of being discharged into the environment. All fish production equipment has been developed on farm by TMFF. TMFF designed technology has been embraced by our clients from the commercial and government sector, as well as leading Universities and Educational Facilities.
Tailor Made Fish Farms, unlike many of our competitors, successfully operate a commercial scale food production system. We offer a complete service from feasibility studies to supply & installation of proven cutting edge technology encompassing comprehensive training and after sales support and backup. Water-Wise Food Production Systems are the future.
"The Australian Marine Conservation Society (AMCS) are strong advocates for the pursuit of environmentally and socially sensitive aquaculture developments and recommend that in light of all the well-documented problems associated with 'open' fish farms, only 'closed loop', non-polluting, on-land aquaculture facilities that do not release pollutants into the sea or rivers should be considered. TMFF's system design and operation is in line with these recommendations.
Fish species selected by Tailor Made Fish Farms for grow-out in their controlled land-based system is Barramundi (Lates calcarifer) because of its universal market appeal and suitability for culture under this type of production technique. However, the system can support almost any species.
Optimum growing conditions for any species can be achieved in these systems, as they are life support systems for aquatic life where their growing conditions, unlike in the wild, can be controlled. The feasibility of alternate species can be determined by 3 major key points: i.e. the time taken for the selected species to reach its acceptable market size; the sale price the market is willing to pay for the product and the availability of the seed stock (fingerlings).
Optimal use of our precious water resources should be a consideration in any new venture. By combining fish and vegetable production the use of this limited resource is minimised and production outputs maximised under controlled growing conditions. The TMFF System ensures efficient water use along with a quicker growing product that is cleaner and healthier. The need to use heavy chemicals normally associated with intensive production methods is negated.
Delivery of fresh product can be tailored to suit your individual customer needs. Supply both live and chilled markets with produce that can be grown right on the market doorstep, all year round. Our focus is on a high quality product grown to the specifications of the markets.
All fish are grown and finished under a Quality Assurance Program prior to sale to ensure a clean, consistent and premium quality product, tailored to suit individual customer requirements.By adopting Best Practice Standards you will ensure your sustainability whilst protecting your immediate environement, which you will depend on for your future water supplies.
By adopting Best Practice Standards you will ensure your sustainability whilst protecting your immediate environment, which you will depend on for your future water supplies.
Committed to supplying environmentally responsible, sustainable food production systems to meet the growing demand for fresh, clean food throughout the world.
Tailor Made Fish Farms deliver consultancy services based on our expertise and proven results in re-circulating aquaculture technology developed over many years and backed by a strong scientific and practical background.